BEHOLD ye mere MORTALS!
Ladies and gentlemen: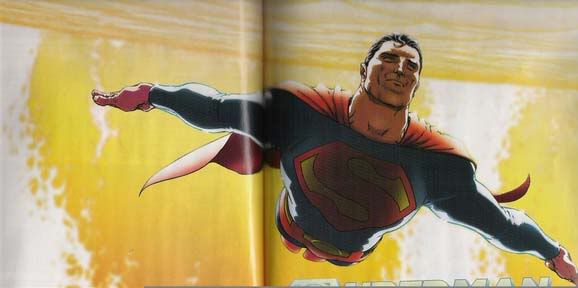 Jesus Lord in Heaven. Beautiful. Utterly beautiful.
If you cannot recognize the sheer mastery of craft that Frank Quitely has achieved, then you are a Fucking Idiot With Objectively Terrible Taste, or a FIWOTT. FIWOTTs are not welcome at this blog. You've probably been offended by something else that we've correctly stated and are gone already, but if you're hanging around for some reason, don't let the door hit your ass on the way out. Listen to Us is an Anti-FIWOTT blog. We actively discriminate against FIWOTTs. I am full of prejudice directed at FIWOTTs. And the Irish. And the Italians. But those are different stories. I'd rather have a Guiness with Spaghetti than hang out with a FIWOTT.
Hmmm. Perhaps a FIWOTT Registration Act is in order. Let's wipe the internet of this plague of moronicity and dimwittedry. DOWN WITH FIWOTTS! DOWN WITH FIWOTTS!
Back on more pleasant matters, that piece up there is still absolutely amazing.
And I got to tell this year's first installment of the "Captain Marvel story" to my new class. They are pumped to hear more adventures of the seven year old orphan who can turn into the world's mightiest mortal. It's not hard to make this stuff fun for kids.