Big Dumb Superhero Comic: Action 826
I like Captain Marvel. I always have. I think the concept is fun, the original work is wonderful and creative, and that it still has a lot of potential. So, because he is a cruel, awful person, Alex gives me the latest issue of Action Comics, wherein the Big Red Cheese starts a guest-appearance story. The story is written by Judd Winick and drawn by Ian Churchill.
I also like my fiancee. But if someone gave me a version of her sculpted from shit, I would not like that very much. Just because a work of art features something I like doesn't mean it's going to be any good, or that I won't find it repulsive.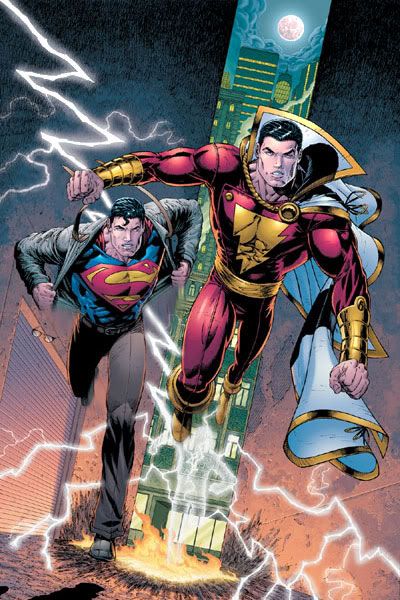 Let's look at the cover. Cap and Superman are going down an alley. Cap is flying, having apparently very recently said "SHAZAM" and changed from Billy Batson. You know this because there's an "electrical" outline of Billy in the background. That's not really a very awful idea. Point for Churchill. However, I don't recall Cap ever wearing a black, striped, metallic helmet at any point in time. So that's kind of weird. Superman is busy taking off his clothes. He has floating eyeglasses behind him and a tie so skinny and poorly-tied that it makes me wonder if Clark is both retarded and living in 1981. That's a bad cover.
Next we get some poorly-relayed exposition. It's almost as if this were a DC comic. Oh, right. After a few pages of that, we get to see Captain Marvel standing funny.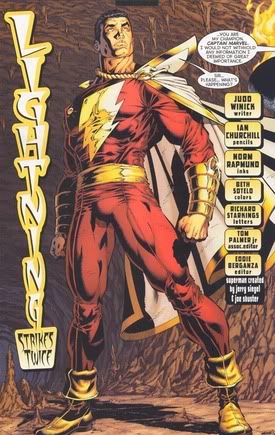 I would stand funny, too, if my clothes fit that poorly. Oh, what the hell, let's throw in some references to Infinite Crisis so that all the fanboys can speculate/finger-their-own-anus.
ANGRY PEOPLE DIE!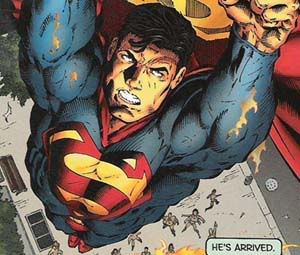 Superman's eyes roll back into his head. WATCH OUT! SUPERSEIZURES CAN BE DEADLY!
Oh, hey, everyone! It's crosseyed, fashion-stupid Lois Lane!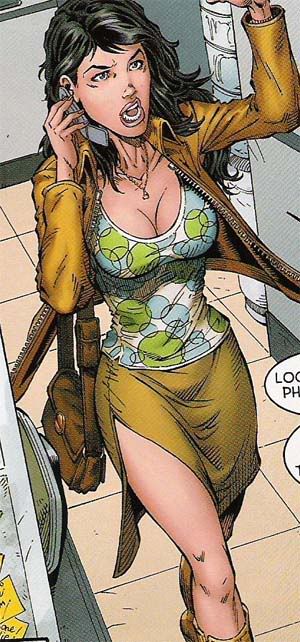 And her TITS!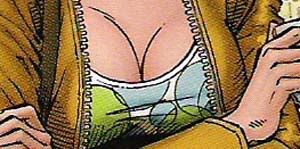 We get a few panels of that, with a little bonus of Clark's glasses changing in almost every panel.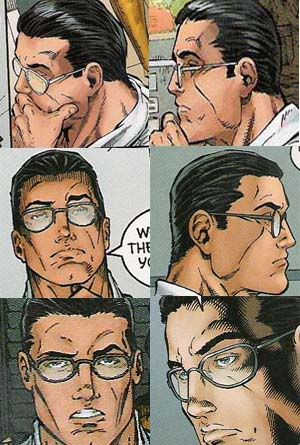 That fashion HOUND! There's nothing he won't try. Considering the disgusting would-never-be-made outfit Lois tries to fit her giant spheres in, I guess he has to make up for her.
Then there's a big bad guy hurting things. He says "I'm waiting for you!"
Then Superman says, "You'll have to wait a lot longer," and hits him. Except that doesn't make any sense at all. He didn't have to wait at all. If you're going to make a dumb action quip, say, "Well, you're wait's over." Or, "I'd hate to keep you waiting." Or maybe even, "I'm really fucking poorly drawn! Jesus Christ, did this guy study under Liefeld? Where did all these lines come from?" Shit, bad action dialogue is easy. DC can't even do THAT? Frickin' Michael Bay can get that done!
Then, of course, a last page cliffhanger that was obvious from the beginning and has been done to death already, anyway. Even with Cap/Superman stories, Eclipso's been done. Zzzzzz.
I just . . .what is the point of this? Me, Mr. Cap Marvel fan, I can't even enjoy this. It's ugly, it's full of silly expository writing, and the plot isn't compelling at all. There's nothing exciting or new here. It's just a string of things that have been done millions of times, and not even done particularly well. People say this is "big, dumb comics" as if that's an excuse. Since when is "dumb" writing defendable? If it is dumb, it is by its very nature ungood. We put up with this shit because we're dying to get some good cape action, but the longer you make excuses for this kind of hackery, the more distant your memories of actual good storytelling will be.
I'm ready to give up on superheroes at this point, but are you?