Beer and Beauty
Sometimes you want to examine the intricacies of comics. Sometimes you want to critique the stupid mistakes being made. Sometimes you want to speculate about how much something is going to suck/rock. Sometimes you want to think real hard.
Other times, you want to kick back with some beer and post some pretty pictures of your favorite character. Guess what time this is?
So I've seen some bloggers posting their sketch collections and there's no reason for me to deny you the wonderful one I've been getting. I love the Marvel Family. I love them even though they haven't been in a good comic in thirty years or so. I always will love them, I'd say. It's an abstract love.
So I'm going to post some of the sketches and pictures I've gotten from friends and pros alike. Let's start off with the first one I ever got, before it was even a thing I was doing. For some reason, there was a teeny little comic con in Ashland, Kentucky one year. Attending was a bunch of no one I've ever heard of and Bart Sears. This was during his JLE years and I saw the chance to get two of my favorites drawn by a REAL ARTIST. So here is your mismatched, outdated sketch of the day: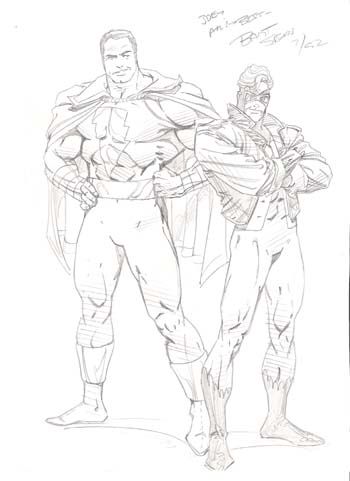 Now here's the first I got in my actual "I'm going to collect sketches of the Marvel Family" thing, from Mr. James Mahfood. This is still one of my absolute favorites.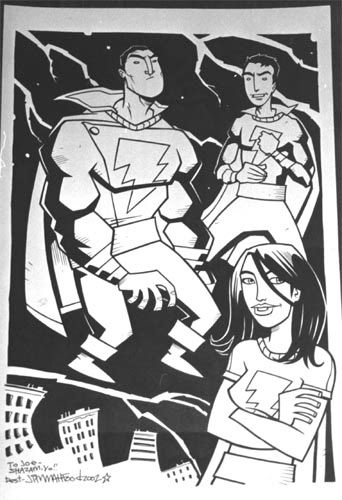 Soon after came this classic from Dick Giordano. Just had to get one from the guy who did just about every promo image I saw growing up.
One of the few times the Marvels have been in a good story recently was in Dylan Horrocks and Jessica Abel's story in Bizarro Comics. I had to have a couple of the pages with Mary on them. So here's one that I got.
By the way, did you ever wonder what Cap would look like as drawn by Bill Sienkiwicz? WONDER NO LONGER!
And here's one from Mike Oeming, about which I can think of no witty thing to say. It's neat.